August 2013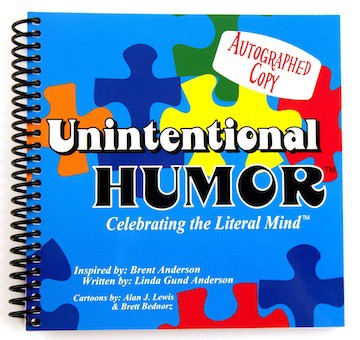 After being away at college in Tacoma, Washington and returning to Colorado for a visit, I joked to Brent that I had "brought the rain home with me." He was baffled and after a few hours of contemplation he asked, "Jenny did you really bring the rain home with you?" Oh no, I had done it again – forgotten that Brent and many on the autism spectrum take what they hear literally.
Thank goodness my mom and brother wrote the brilliant book, Unintentional Humor; Celebrating the Literal Mind® to teach the challenges of the English language. Filled with cartoons and short stories describing expressions such as; "You're driving me up the wall", "Cloud 9", and "Happy Camper" Unintentional Humor® is a fantastic resource for families, teachers, and therapists. I am so proud of my family for turning a difficult issue into something that everyone can enjoy.
Purchase your copy of Brent's Unintentional Humor book.
---