April 2018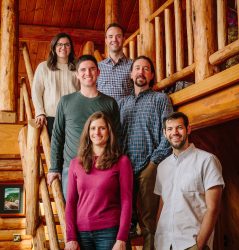 Dear friends and supporters of Celebrate EDU,
If you have been following the Celebrate EDU journey for the past 4+ years, then you know that consistent updates are not our strong suit. This year, it is one of my goals to make sure that you get more in-depth updates from us, a peek at what is going on behind the scenes at Celebrate EDU. Often we share with you when exciting things happen, but I want to make sure that you have the full picture. So I am starting a quarterly transparency report, sharing with you what we've been working on and how things are going here, so you have a better idea about the organization you are supporting.
Quick Recap:
As you may know, the end of 2017 was an exciting time for Celebrate EDU. We received funding as an Inclusion Open Grantee from the Ewing Marion Kauffman Foundation, one of the largest private foundations in the U.S. We are the first disability-focused organization that they have funded and are honored to be included in the group of amazing organizations working to make entrepreneurship more inclusive. We were also awarded the Chick-fil-A Foundation's True Inspiration Award in Youth Entrepreneurship, which included a $100,000 grant and an office visit from the cow. Needless to say, it was an exciting 3 months.
The funding we received is to be used to build the capacity of Celebrate EDU so that we can grow the reach of our programs, specifically our Kindling Workshops, to reach more self-advocates across the country. This level of funding changes a lot for us, it feels like a huge next step, and we are so excited for the opportunities and challenges that it brings!
What We Have Been Working On:
With this new support, comes great responsibility. We are very dedicated to making sure that we are utilizing these resources in the most responsible and intentional way possible. So, we invested a lot of our time and energy in the first quarter of this year to work through a 2-year strategic plan that outlines our goals and how we will use this funding. In February, our Board of Directors had for our annual in-person meeting in Estes Park, CO working through our vision for Celebrate EDU. A huge part of our next steps includes growing our capacity as an organization, which includes hiring more staff. We have been operating Celebrate EDU with a small but mighty team for the past 4 years, so this is an exciting new challenge, and we want to make sure we do it right. So we spent a lot of time thinking through who our next hires are, and what their roles will be.
We also finished building a new website for Celebrate EDU, which was launched in March (if you are reading this, then you are currently on our new website—yay you!) With the help of our long-time partners, Revive Design Studios, we have built out a new front-end of our site and also our student portal for all Spark Program students. Our website is an integral part of our organization because most of our curriculum is housed here. We also have more exciting plans for our website in the future (stay tuned for that).
Our team member Melissa has been building and piloting the next level of our curricula, The Ignite Program, with a few students who have completed Spark in the past, we are looking forward to doing a soft-launch of this with select partners and students this summer. Okay, quick side note, when I write out everything we've been working on it sounds a little crazy, but that's #startuplife ya know?
Lastly, we created our Founder's Video. Instead of doing a traditional birthday fundraiser, like I did for my last 3 birthdays, I opted to create a video that tells the story of how Celebrate EDU was started. If you haven't seen it yet, you are missing out! We had so much fun making this video with Michael Miller of Sun Prairie Films. We wanted to make something that reflects our real personality and showcases the story that has inspired our work. I asked for people to share the video for my 30th birthday instead of donating. (My amazing friends still donated over $3,000 for my birthday anyway—you guys are the best!) It's never too late to share it, so if you haven't yet GO DO IT NOW!
What's Next?
Moving forward, the two most important things we are working on are hiring more staff and making our Kindling Workshop easily scalable. Now that we have figured out the roles we want to fill, we need the right people to fill them! Stay tuned for listings on our site. Celebrate EDU staff has run our Kindling Workshops since we created them in 2016. Our next step is to make them accessible to programs and organizations around the country. We have already started testing an instructor training to teach people how to run a workshop. Other things we are working on include creating a box full of Kindling supplies and finding like-minded partners to run the programs. If you know of anyone who you think we should be partnering with—send us an email and tell us who they are!
Well, there you go! A not-so-quick update for you. Thank you so much for taking the time to read this. I am looking forward to sharing more about how this year unfolds with you all.
With so much gratitude,
Jenny
---
---