October 2018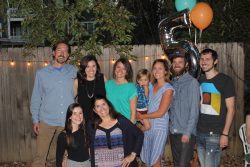 Hi friends! It's time for my favorite season, fall! We have so many exciting things happening through the end of this year, Q3 was pretty awesome too. Here's the update:
What We've Been Up To:
We moved! Our new space is AMAZING but oh my god, remodeling an office and moving in 30 days is not an easy feat. We went from a 350-square foot shared office, to a 1,400 square foot space. The house has been an office for years but it hadn't been updated in a long time (1980s anyone?) We took over the place on July 1st spent the entire month redoing every single surface. I am not exaggerating. . . Gone are the brown shag carpet, fluorescent lights, and lavender walls, it now looks totally modernized. We replaced the floors, painted all the walls, updated every light fixture, totally overhauled the kitchen, renovated the bathroom, and even knocked out a wall. We couldn't have done it without SO much help. We especially need to thank Carpet Exchange who generously donated all of the flooring and installation. We are beyond grateful for this incredibly generous donation. It truly changed everything for us. We are seriously obsessed with our new office. So next time you are in Boulder, please stop by and see it.
Our other big update: we have new team members! We filled both of our full-time positions. Woohoo! We are so excited to add more talent to the Celebrate team. We will do profiles on them here soon.
Happy 5th birthday to us! We celebrated 5-years of Celebrate EDU by hosting a little shin-dig to mark this momentous occasion. About 50 people joined us for food from What The Fork and Justin's, beverages generously provided by Pettyjohns, and a little presentation about the last 5-years. I wrote a little something about our crazy journey that you can read here (I sent it in an email—maybe you aren't on our email list? Let's change that, click here.)
What's Next: (more…)