Emma Venticinque isn't afraid of adversity. In fact, one of her many talents is creating something good from a challenging situation. After completing her first semester of college (at the height of the pandemic), she began painting as a way to unwind and relax. From there, a business designed to bring joy and give back to her community was born!
I love being creative when painting my gnomes!
Emma, 23, lives in Massapequa, New York, and is the owner of Elf Emma, a creative business that sells hand-painted lawn gnomes. Emma's business is thriving, but she doesn't keep the money for herself, "I like giving back to charity with my profits!"

Emma is a true philanthropist, and this past winter she was able to donate over $3,000 to local charities with money she earned through her business.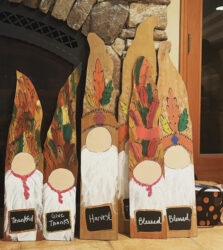 Emma creates gnomes for all seasons, including Christmas, Valentine's Day, St. Patrick's Day, Easter, Fourth of July, Halloween, Thanksgiving, and more!
She participated in the Celebrate EDU Spark 101 class that helped her learn more about herself, and how to use technology to support her business. "Now I'm working towards advertising my business more on social media," she shared.

As for the advice she would give other self-advocates who want to start their business, "be passionate and don't give up!"