Isaiah Rodriguez is a friendly and driven entrepreneur who loves the outdoors. He graduated from high school this spring, and at 19 already has his sights set on growing his lawn mowing and yard work business, Rodriguez Lawn and Landscape.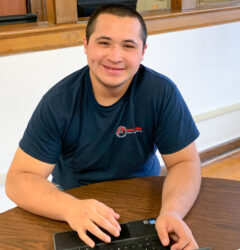 Hailing from Mitchell, Nebraska, Isaiah always knew he wanted to be his own boss and help people that needed it. He shared, "I enjoy working at a job that is physical and outside." His Uncle Felix has landscaping experience and taught Isaiah the basics. It didn't take long for Isaiah to learn that he enjoyed landscaping, and "my uncle encouraged me to try this as a business," Isaiah continued.  
Over the past 6 months, Isaiah has participated in several Celebrate EDU classes that helped him gain the skills he needed to start his business. "I learned that there is more than just deciding I want to start a business. I need to know my competitors and what they do for their customers," Isaiah said.
He knows attention to detail is important and works hard to provide the very best lawn care at a reasonable price. He also prides himself on offering outstanding customer service, and shared, "I need to have a good reputation!"
Isaiah offers year-round services that include lawn mowing, snow removal, and other yard maintenance that customers can sign up for.  "I like that I can set my own hours and rates," he said, "and it feels good to provide a service that helps my community."
He is currently working on getting his Commercial Driver's License (CDL) so that he can operate vehicles that make it easier to transport his lawn equipment to customers' properties and is excited to see what the future holds for his business.
The ultimate goal, Isaiah shared, "is to have a well-developed business that is constantly busy and brings in enough money so that I can live comfortably on my own." One thing is for sure – Isaiah Rodriguez can absolutely achieve whatever he sets his mind to!